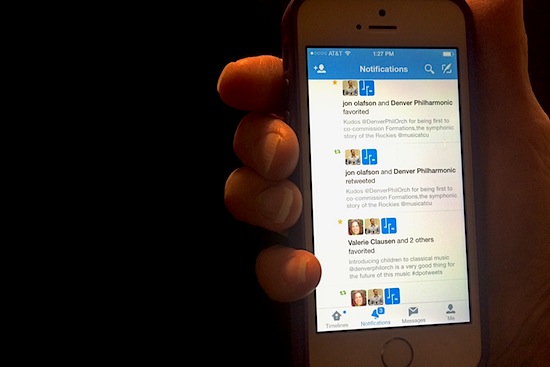 I experienced my first "tweets encouraged" classical concert recently, compliments of the Denver Philharmonic Orchestra. Tweeting at concerts is common in other genres, but classical has been relatively recent to the party. In an attempt to become more interactive with concert-goers, some orchestras around the country and abroad are welcoming twitter users with open arms. They're even trying to add value to the experience, by offering an opportunity to participate in online conversations with knowledgable individuals associated with the orchestra by using designated hashtags. According to Jon Olafson, board president of the Denver Philharmonic Orchestra, "Our patrons are actually learning about classical music while they listen to it. What a great way to learn and develop an even greater appreciation for the music and the musicians!"
While I thought all of this might lessen my concert experience, it didn't.
The Denver Phil's answer to the invasively bright little screens and blue glows of cell phones and iPads has been to keep their performance venue fairly well lighted when they perform.
Unlike the way some orchestras sequester tweeters in special sections, at the Denver Phil, everyone's encourage to tweet. Since twitter users tend to be younger than many classical music devotees, this may have helped draw in the youngest audience I've seen at a classical concert. Entire families and millenials mixed in with older folks was a refreshing site to behold.
I discovered that my own tweeting was more distracting to me than to the people around me. It was a relief to try it out without having to be surreptitious, and without interfering with the concert experience of the delightful 85-year-old woman on my left who introduced herself to me.
One thing I learned: if you're going to a venue to listen to classical music and plan to tweet, don't expect to find WiFi. I think I used up a quarter of my month's supply of data in one 2-hour concert. Orchestras etc. who want to try bringing in a younger audience need to remember that not everyone has unlimited data!
Being able to get and share information and answers the moment one thinks or hears the questions is a current phenomenon that's likely to last, thanks to immediate access to the tools that make it possible. It's also something that only younger audiences are used to. (I notice it annoys the heck out of some in older generations, who've always had to remember their questions or write them down if they were important enough to answer later on.) It does lead me to reflect on being vs. doing. Seeking and sharing information interrupts the flow of pure listening. That's hard to argue. But if it's a way to engage new listeners and concert goers without interfering with the experience of those who don't partake, is there really a problem?