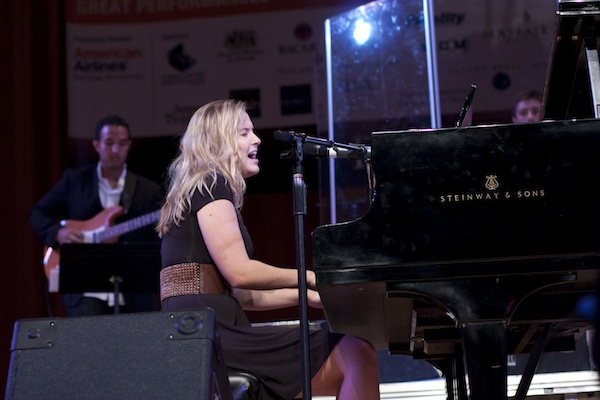 Creating Your Own Career in Popular Music
What kind of a career in popular music can music majors hope to attain? David Fish, Catawba's music department chair, sees success in popular music as having a lot to do with creating your own opportunities. He tells his students that careers are "you-shaped" and that "hardly any two careers look anything alike." He reminds students that it takes time to build a career, and that their goal should be to consider what they can do to be successful not just in the short-term but also "thirty years from now." That takes musical depth and breadth, he adds, as well as developing the kinds of musical skills that will draw other musicians to want to perform with you. "It's not about how fast you play, or how many notes you can play; it's not like gymnastics. Developing an artistic voice that others will want to be able to play with is what you are looking to do," he stresses.
Chris Sampson at USC Thornton School of Music says that a career in popular music is "fundamentally entrepreneurial." According to Sampson, "Career opportunities are created by individuals to meet a specific need in the industry –– nothing will simply come to you…careers are often the result of bringing together a network of people from various disciplines – business people, other performers, engineers, music supervisors, performing rights organizations, etc. Former students who have taken this approach have enjoyed wide-ranging career opportunities as performing musicians, publishers, producers, music supervisors in film/television, engineers, media developers, songwriters, arrangers –– and, in some cases, a little bit of everything!"
Students at some of the schools represented in the Association of Popular Music (APME) begin their career orientation as up and coming artists as soon as they enter college. At Berklee College of Music, freshmen take an artistry seminar in their first semester, says Darla Hanley, dean of Professional Education. They learn about sustaining a career and surviving financially as an artist. They also explore who they want to emulate and learn from, as well as where they fit in their artistry.
The Case for Music Internships
Internships are essential for developing a viable career in popular music. Reynaldo Sanchez, chair of the Music Media & Industry Program at the University of Miami's Frost School of Music, coordinates the Bruce Hornsby Creative American Music Program there. He says that music schools need to prepare students for what they'll be able to do when they graduate, to eliminate the element of surprise. Sanchez sees internships as essential for providing on-the-job-training and for opening doors to strategic career opportunities.
Jeffrey Rabhan at NYU Tisch School of the Arts agrees that internships are instrumental in paving the way for jobs in the popular music field. "Students must take an active role in building their careers while they are still in school," he emphasizes. "They can no longer wait to graduate and send out résumés."
Networking is Essential!
Steve Lipman, contemporary music education consultant and former assistant vice-president for student affairs at Berklee College of Music, sees networking as vital to the world of popular or commercial music. "Who you know is often the difference between working and not working," he says. "Therefore, does your college of choice provide a wide network of students and student interests? Does the faculty have experience in the fields you are interested in? Do they regularly invite well-known visiting artists to lecture and offer students advice and the opportunity to perform alongside them? Many a student has gotten their first gig backing an artist who first heard them in a college setting."
Lipman encourages students to explore various clubs and organizations on campus as "another way to network, gain knowledge, and obtain experience in a field of your choice and with people you will want to know. You are bound to run across some of these same students as your career develops." Students may discover everything from technology, songwriting, and recording clubs to music organizations with a strong outreach component, entrepreneur organizations, and social media meet-up groups. They may also find that some schools will provide start-up support, including limited funding, for developing a new club that has enough student appeal.
Another networking strategy Lipman urges students to follow is to "attend professional conferences and meetings hosted by the leading organizations and associations representing your field of interest (e.g.,NAfME, JEN, SXSW, MIDEM, MEIA, NAMM, NARM, ASCAP EXPO).