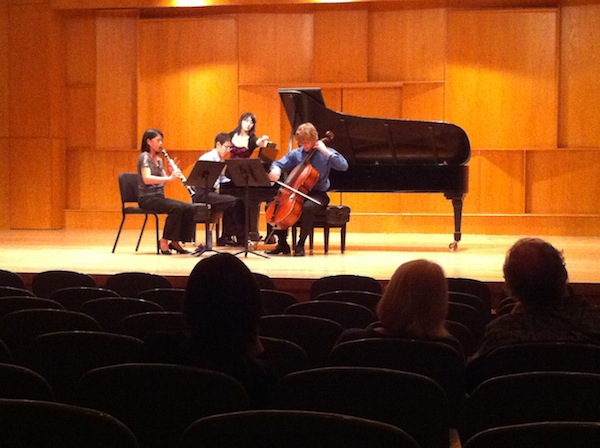 Anyone considering a degree in music faces a litany of concerns. Beyond soaring tuition and housing costs and limited financial aid, there are the issues of finding the right music teacher and school, getting enough performance opportunities, and balancing studio, rehearsals, and auditions with required coursework.
Getting informed and being strategic about your higher-ed investment is the best guarantee for having a rewarding educational experience.
by Angela Myles Beeching –
For most musicians, finding the right music teacher they will study with is the most important factor in choosing an undergrad or grad program. So, don't choose a teacher or a school simply on its reputation. It's about finding the right fit for YOU! Having the right teacher, especially in the formative stages of a career, is the most important factor in becoming the professional you aspire to be. In terms of developing your musical voice as a performer or composer, the time spent with your studio teacher one on one is the most intensive part of your education.
So, don't pick a teacher based on his or her reputation or "likeability." The key is to find the teacher who's inspiring and challenge: who can both "diagnose" and help you work through any technical and musical difficulties, and help you reach your full potential.
You need the right teacher at the right time in your development as a performer. Naturally, this means something different for each individual. For instance, if you need a teacher to help with the basics of tone production, technique and musicianship, it would be a mistake to study with someone whose overwhelming focus is on advanced interpretation. Likewise, if you want help producing a great sound, it would be a mistake to study with a teacher who does not have one (or doesn't have the sound you want to emulate). And if you are interested in an orchestral career, it would make sense both to study with a teacher with a successful orchestral background, and to study at a school with an excellent orchestral program.
Many experienced teachers with excellent reputations are available, but the best studio teaching comes down to how a particular teacher connects and communicates with an individual student, and her or his learning style. That's why choosing teachers based on reputation, on how they sound in concert or on recordings, or on what you observed in their master class isn't enough. You need to know how a specific teacher will work with you, by having a lesson or playing for this teacher in a master class.
To find the right match for you, start by making a list of potential teachers. Talk to friends, colleagues, current and former teachers, conductors, coaches, and directors. Ask what teachers they think might be good matches for you, and find out why—how do they teach, what are they like?
Listen to recordings, watch as many master classes as you can, and whenever possible, go to summer festivals or workshops—they're a great way to find your next teacher. You can also get a sense of how a teacher might work with you in master class and summer festival contexts.
With your list of potential teachers, find out which schools and summer programs employ these teachers, and look for contact information. If you can't find an e-mail address for the teacher on a school's website, email the school's Admissions office and ask how to reach the teacher. The idea is to request to have an introductory lesson well before you come for the formal audition, ideally, the spring or the summer before. Some teachers do not make a habit of offering these, some simply don't have time, but there's no harm in asking.
By arranging to have a lesson before you come to the school for the formal audition, you give yourself the chance to find the best teacher for your needs and get important feedback about your abilities. Although more teachers are starting to teach online these days, I'd still try to make the in-person connection if possible. Yes, this can get expensive, as you'll probably have to travel and pay for the lesson, but it is worth it. You're doing the necessary research on a much bigger investment: the tuition dollars and years in a degree program! The teacher you like and who likes your work may then have a chance to make a strong case for your acceptance and financial support. Don't gamble on a bad fit between you and your studio instructor.
A few last minute tips: many faculty teach part-time at more than one school, so if you're interested in studying with one particular teacher, weigh the pros and cons of each school to make sure you choose wisely.
Also, don't assume that the school that accepts you will give you the teacher of your choice — they may not be able to. And conversely, don't assume that because a teacher has verbally accepted you in her/his studio that you will be accepted by the school. Make sure you get the Admissions department's official acceptance, and you need to know from the teacher that you have been accepted into her or his studio.
Finally, whomever you choose in terms of music studies, the proof of the value of the education you receive lies in what you do with it. As Charles Stier writes in his book, What happens after graduation? The Classical Musician and the Music Business: "The first and most important step in becoming a professional musician is to seek out and remain with the best teacher. The second step is to know when to leave. The third step is to take what you have been taught and redefine those values in your own terms."
---