A symphony orchestra career can be an exciting experience that fulfills a lifelong dream. But it's not easy to gain. It requires a huge amount of dedication and work – with no guaranteed outcome.
by Barbra Weidlein
If you're passionate about this career field, it's wise to be as informed as possible, and as soon as possible. "Getting hired by a symphony is incredibly difficult," says Janet Gamber, a violinist with the Reading Symphony Orchestra in Pennsylvania. "I freelanced for just over 5 years in Philadelphia with many fine musicians, and I can count on one hand how many of my friends have won jobs with full-time orchestras." 
We spoke with Gamber and several other musicians who perform in large and small symphonies mostly in the U.S. We asked them about the trajectory that took them from high school to where they are now. 
We also wanted their input on the economic realities of performing in a symphony orchestra in the 21st century, when classical music and the health of symphonies all over the world often appear in jeopardy. 
Mostly, we want to share best tips for anyone who wants to pursue a career performing in a symphony orchestra – what musicians wish they'd known when they were still in high school or college, and what they've learned since then that may support you on your musical journey.
Preparation Before College
Symphony orchestra players start their careers by diving into music long before they're ready to job search. By high school, they're typically fairly proficient on their primary instrument, not so much because they are prodigies but because they work hard and they do most if not all of the following:
• take private lessons
• maintain a strong daily practice schedule
• participate in school and youth orchestras
• become a section leader
• audition for and win a spot in All-State orchestras
• attend summer music programs
• apply to competitions
• stay flexible
• jump at opportunities that arise
By junior year, students who dream of a career in a symphony find teachers and mentors who will assist them in preparing for college auditions at music schools that will meet their current and future needs. 
Paul Trapkus (BM, Music Education and Violin Performance, University of Michigan) is a violinist with the Boulder Philharmonic and Boulder Chamber Orchestras and the orchestra director at Silver Creek High School in Longmont, Colorado. He encourages high school students who hope for a symphony career to "participate in as many musical opportunities as you can manage. 
"Playing in summer music camps," he continues, "is also extremely beneficial – the difference between a summer without much playing and a summer with lots of playing with excellent conductors and colleagues is huge. Ideally, you can also establish through these things a group of music friends that inspire each other to improve and take part in different ensembles. 
"I also recommend attending as many concerts as you can," urges Trapkus.  "Watching outstanding orchestras can be very eye-opening and motivating."
Adam Sadberry (BM Flute Performance, Performer's Certificate, Eastman School of Music), acting principal flutist with the Memphis Symphony Orchestra, says, " It wasn't until the summer before my junior year of high school that I really started to catch the 'music major' bug. I attended my first flute masterclass with big-name teachers, found a fantastic private lesson teacher (Jennifer Keeney), joined the Houston Youth Symphony, entered some local competitions. I was fortunate enough to earn a few wins, and that motivated me to work harder and harder. Over the next two summers, I attended the Interlochen Arts Camp and the Greenwood Music Camp." Sadberry went on to study flute at Eastman School of Music.
Preparation During College
Cordula Merks, violinist and concertmaster with the San Francisco Ballet Orchestra and violin performance professor at San Francisco Conservatory of Music, suggests the following:
1. Find a teacher who really meets your needs and who you can work well with.
2. Find a college program with a strong orchestral program and a strong orchestral excerpt class – where you study repertoire that's likely to be in orchestral auditions. 
3. Study in a geographical area where you can get a lot of exposure to the symphony along with opportunities to study with symphony members and maybe even get a chance to sub.
4. When you're ready to audition, be comfortable and fully fluent with at least one Mozart concerto and at least one Romantic concerto plus standard excerpts from orchestral repertoire that tend to show up in most auditions.
Dana Johnson (MM, University of Michigan, BM Oberlin Conservatory of Music), principal second violin with the Arctic Philharmonic in Norway, held leadership roles in orchestras in undergrad and grad school. When in school, she also participated in summer music festivals and subbed with several regional orchestras. She credits all of this experience for "preparing me well for my current job." 
Johnson adds: "Start learning standard orchestral excerpts early and do take them seriously. The more internalized that music is, the more comfortable you will be in a high-pressure audition scenario. 
"And do tons of mock auditions. Anything to make yourself as comfortable in an audition setting as you can. All of these auditions are so subjective.  There are so many factors in play and at a certain level, it really just comes down to fit."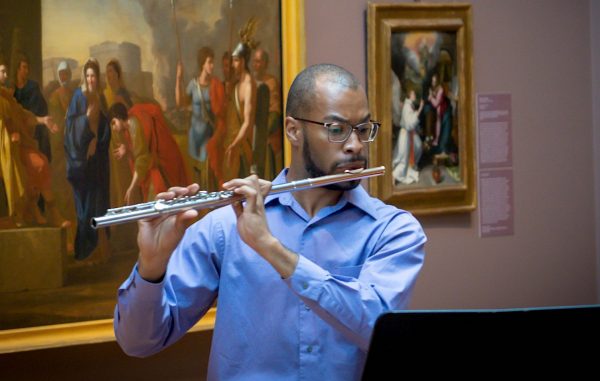 Is Grad School Necessary?
The answer depends on who you ask. Not everyone interviewed for this article attended graduate school. But most did, because it provided training beyond what an undergraduate education offers.
"Attending the Cleveland Institute of Music (CIM) was instrumental in my success to winning a symphony seat with the Hawaii Symphony Orchestra (HSO)," says percussionist Christopher Cabrera (MM, Cleveland Institute of Music; BM Oberlin Conservatory of Music). A fellow CIM alum was in charge of recruitment at HSO, and Cabrera was hired to fill an opening there. 
Ani Bukujian, violinist with the San Francisco Ballet Orchestra, did her master's degree at Juillard. She found graduate school "very necessary" for winning her seat with the Orchestra. She also credits the Professional Studies Diploma program at San Francisco Conservatory of Music with providing the additional skills and training needed to prepare for her orchestral audition.
Chris Cabrera sees summer music festivals as an entry point for some symphony seat seekers. He encourages musicians to "foster relationships with people in the field. It might give you the leg up needed to win a job. Also, if you aren't practicing 4+ hours a day then it probably won't work out."
Symphony Orchestra Auditions
While some individuals wow the selection panel at their first audition and win a symphony seat straight out of college, most find that it takes more hard work and experience performing.
Those fortunate enough to win a spot in a training orchestra like the New World Symphony in Miami will be provided housing and a stipend to support them for a year or more and throughout the audition period. Many end up getting a job before ever finishing a training orchestra program.
Adam Sadberry, the flutist with the Memphis Symphony Orchestra, says that he "auditioned for grad schools and a couple of training orchestra programs" before "winning and accepting the Detroit Symphony Orchestra's African-American Orchestra Fellowship.
"I spent one year in the program playing 18 weeks of the DSO's season," he shares, "and during that period, I played every role in the flute section including principal. I also did a ton of mock auditions for DSO members and took several auditions around the country. Along the way, I was invited to perform with the Memphis Symphony Orchestra as guest principal flute for a few weeks, and I was extremely fortunate to be appointed as the acting principal flutist of the orchestra."
Janet Gamber, the Reading Symphony Orchestra violinist, talks about the financial challenges of taking auditions. Musicians are responsible for their own transportation, lodging, food and the cost of missed work. "The whole process was an emotional roller coaster," she remembers. "In order to get in the mindset to take an audition, you have to believe you can win. You prepare all the music and convince yourself you're going to win, and then you're asked to leave after just a minute or two."
Isaac Trapkus, bassist with the New York Philharmonic, first played with the Detroit Symphony Orchestra and before that the New Haven Symphony.  
"I definitely worked much harder after winning the Detroit job to make sure I was prepared enough to win the NY Phil spot when it was announced," he admits. "The audition was announced about three months before the actual audition date and the audition repertoire list of solos and orchestra excerpts was sent to applicants shortly after. I knew there would be other people more talented than me taking the audition so I knew I would have to outwork everyone to have a realistic shot.  
"I can say confidently that nobody prepared more for that audition than I did. Of course you never really know, but unless you're the magic person who wins a job right out of school you have to have that approach and attitude in order to win an audition – because if you don't, someone like me is out there who will out-prepare, out-work and out-perform you.
"I have colleagues who had a much easier time winning their audition and did not have to put in all the work I did but they are surely the exception. Far too often I see other people preparing for auditions as if they too will have the easy path to winning and then seem surprised when they never advance."
Tim Jones, violinist and associate concert master with the Wichita Symphony, had his share of auditions after getting his doctorate: "Ultimately I think one of the most important things when taking orchestral auditions is not getting too attached to the idea of the job too soon – even on the day of the audition as you successfully advance through the rounds.
"If you are heading into an audition with the feeling that your whole career depends upon winning or that your entire life has naturally led up to that particular job," he adds, "the extra stress you've put upon yourself may well be enough to keep you from showing your true best. This may not be the case for everyone, but on a couple of occasions I found myself feeling that the stars were aligning when I reached the final round; the ultimate effect, however, was not that I relaxed and played more confidently, but that I became more anxious and distracted."
Economic Realities
According to the League of American Orchestras, there are over 1200 non-profit orchestras in the U.S. alone. Salaries for orchestra members fluctuate based on the size of the orchestra, from six figures in a few of the largest symphonies to hourly wages in others.
The symphony orchestra players interviewed for this article had diverse needs and views around working outside of their symphony jobs. Some earn a viable income through their orchestra jobs alone. Others teach, gig, and work at non-musical jobs. 
When Chris Cabrera first started working with the Hawaii Symphony Orchestra, the cost of living in Oahu led him to work as a barista in his first season there. He now plays area gigs, and teaches and subs with the Royal Hawaiian Band when not performing with the Symphony.
Janet Gamber was freelancing to gain experience performing with orchestras and while auditioning for an orchestra seat. But freelancing became unsatisfying and economically challenging. With the help of a career adviser and the skills she gained in college and grad school in science, technology and recording engineering, Gamber found a full-time job working in cloud-based software in Colorado. She now works remotely most of the time, so traveling 2,000 miles to perform with the Reading Symphony Orchestra outside of Philadelphia works well with her schedule.
Jason Shafer, principal clarinetist with the Colorado Symphony, is also an instructor of clarinet at the University of Northern Colorado. While he appreciates the additional source of income that teaching provides, Shafer believes that income should never be the reason for teaching. He warns: "If you don't love teaching, don't do it! But if you do love it, we are so lucky as musicians to have the chance to make a real difference in the lives of our students, both in their development as musicians and in their personal growth. Personally, I can't imagine my career without teaching!"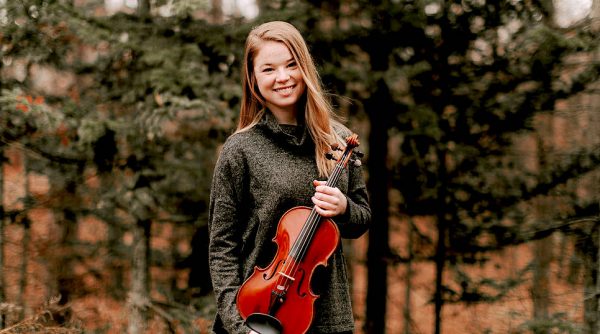 ---
Great Tips from Symphony Orchestra Members
"Find a private teacher that you love, and take lessons! Take the inspiration that you get from those lessons and let it bloom and grow in every way that you can think of: go to great concerts, listen to 10 recordings of the same piece, discover new music, and practice thoughtfully." 
– Jason Shafer, Principal Clarinet, Colorado Symphony
(BM, Eastman School of Music)
––––––
"I cannot stress enough how important 'smart practicing' is, especially when you have a lot going on around you. Go for quality, not quantity.
"There is lot of pressure when it comes to executing orchestral excerpts behind the screen and by the time we audition, we have to be physically and mentally prepared. 
"Most importantly, no matter the outcome, we have to be able to sustain a positive and winning attitude during the journey and embrace success and failure at the same time. We all become a better version of ourselves throughout the adventure!" 
– Ani Bukujian, Principal 2nd Violin, San Francisco Ballet Orchestra
(BM, MM Juilliard; Concertmaster Track, San Francisco Conservatory of Music)
––––––
"Pursue educated and smart practice rather than just long hours. I've found that if I do research about tempi and style and think about interpretation before I even touch my instrument I'm able to save a lot of time in the practice room and can use the time I have more efficiently.
"Studying scores, listening to recordings and watching videos of how a conductor might lead certain tricky passages are all great ways to prepare yourself mentally and to learn a piece better. This also helps prevent injury – and I would also add that taking breaks frequently is a great way to stay healthy. I sometimes set a timer to make sure that I don't play for too long before taking a five or ten minute break. It's really made a big difference for me."
– Felicity James, Violin; Associate Concert Master, Minnesota Orchestra
(BM, Colburn Conservatory of Music)
––––––
"It is always an emotional experience to walk away after a lost audition, but in modern times musicians have to remember that not winning the job does not mean that one is not qualified. 
"I've come to believe that in most cases, between 25-50% of the musicians gathered for any particular audition 'deserve' the job, or at the least are capable of performing at the level required. While that might initially seem to be a depressing or discouraging assumption, in truth it's the opposite. 
"The fact that many qualified individuals are rejected from every orchestral audition is potentially the greatest emotional buoy in the wake of lost auditions; being turned away doesn't always mean that you weren't appreciated, or that you didn't sound beautiful, or that the jury thought you played poorly. It only means that someone else caught their attention in a specific way."
– Timothy Jones, Violin; Associate Concert Master, Wichita Symphony; Visiting Asst. Professor of Violin, Wichita State University
(DMA, Federal University of Rio Grande do Sul; MM, Azusa Pacific University; BME/BM – Wichita State University)
––––––
"I would HIGHLY recommend people who are majoring in music performance also major in music education or something else they are passionate about so they have options later in life when the orchestra dream doesn't pan out for 98% of them. I was in that 98% boat and it's only by luck of meeting an amazing teacher 5 years after my masters degree that I was able to finally put it all together and win a job. I only had a performance degree and I was not prepared for a professional life outside orchestra playing. That was not smart but that is still the path I see most music performance majors on today."
– Isaac Trapkus, Bassist; New York Philharmonic
(MM, Juilliard; BM, University of Michigan)
––––––
"Do not go into debt with a music degree, especially if you want to perform with an orchestra. You need the ability to keep practicing and will likely not make a lot of money while you're preparing for and taking auditions. If you're saddled with debt, you're going to have to find a way to earn enough money to pay down the loans, and that will likely take away from your ability to spend time practicing and performing."
– Janet Gamber, Violin; Reading Symphony Orchestra
(MM, University of Colorado Boulder College of Music; BA Bryn Mawr College)
---
Additional Resources
"What's the Difference Between an Orchestra, a Symphony, and a Philharmonic?" by Lucas Reilly
"Take Your Seat" by Jeremy Reynolds
---
Photo Credits
Top photo: Jason Shafer, Clarinetist, Colorado Symphony; photo by Brandon Marshall   
Second photo: Adam Sadberry, flute, Memphis Symphony Orchestra   –  
Third Photo: Dana Johnson, violin, Arctic Philharmonic in Norway;  photo by Annette Isabelle Photography