Music school majors and career professionals are discovering a variety of ways to handle the impacts of COVID on recording and production work.
by Haley Zaremba
To learn more, we talked to music production and technology professors at various schools as well as recording and production graduates. The consensus is that being flexible and trained with a diverse skillset is more important than ever. 
Versatility is essential
"I think two suggestions [for current students] are roughly the same as they've always been, which is that you need to be multifaceted," says Rob Jaczko, who chairs Music Production and Engineering at Berklee College of Music. "You can't be a specialist in one narrow little thing, because whatever that thing is, it's irrelevant or out of fashion in a year."
The need for versatility is not new, but has been catalyzed by the current economic and public health crises. "In reality, the professional landscape for music technology has been in flux for some time," says Michael Gurevich, associate professor of Performing Arts Technology at the University of Michigan School of Music, Theatre & Dance. "So the key is to learn a lot about a lot of different aspects of the field and the industry, and to be open to every opportunity that arises. I don't think that's going to change." 
When describing modern-day Renaissance women and men of music, Jaczko and Gurevich might as well be describing Aaron Daniels, who graduated from the University of Colorado Denver Music & Entertainment Industries Studies program (MEIS) in 2017 with a bachelor's in Recording Arts and a piano emphasis. Over the past few months, instead of watching his business dry up, he is busier than ever because he's been saying yes to all kinds of jobs he had never even imagined before. He's gone from mixing records and teaching piano to mixing live streams, teaching virtual classes, and producing backing tracks for ministries as far-flung as Japan and Afghanistan. Piano students who had long ago moved to other states have also been reaching back out to him as online learning has become mainstream. 
"The pandemic has been one of the best things that's ever happened to me personally," Daniels says from his home in Denver. "It pushed me to be able to try new things. I'm making more [money] than ever before." Although he graduated a few years before the pandemic hit, Daniels says that his program at CU Denver prepared him well for pursuing diverse streams of income and being open to the constant shifting of the industry. 
Reshaping the way of teaching and learning
COVID has not changed the art of music production. Instead, it has accelerated a process that has already been in place for years. 
Since well before the pandemic, "the way of the large format recording studio [has been] disappearing," says Los Angeles-based producer, composer, and saxophonist Daniel Weidlein, a USC Thornton School of Music graduate. "The reality is that most recording projects are happening at home or in smaller project studios (like mine) all around the world."
In this sense, COVID-19 is not necessarily a tragic disruption of the music school curriculum, but rather an essential and overdue opportunity to reshape the way we teach and learn music recording and production for a modern world that requires flexibility over all else. 
"It's super important to continue to learn signal flow, gain staging, and basic physics of sound that are required to engineer and produce in a large format, analog-based studio," says Weidlein, who runs BioSoul Music production and recording studio, "but it's increasingly vital to translate those fundamental concepts into digital applications. Those same concepts apply to using a plugin in Logic, but you need to be taught how to properly implement them.
"It's great to know how to get the perfect sound with the ideal recording setup," he adds, "but more often (especially with COVID-19 considerations), understanding how to make the best of a less ideal recording situation—like avoiding unwanted room reflections, using good mic technique, and learning how to maximize the returns of more affordable gear—is vital to modern recording. Think of how many great records have been made recently on a tour bus, in a hotel room, or even in somebody's bedroom. It doesn't take a huge analog studio, it just takes good knowledge of a DAW (digital audio workstation) and the gear you have."
Any programs stuck in the past are now reckoning with the future. COVID-19 will be a watershed moment for music programs currently working out how to leave the "old ways" in the past and dive headfirst into the "new normal." 
For Berklee's Jaczko, the pandemic has been a unique opportunity to learn new skills, broaden his and his students' horizons, and reshape the future of his program. "The resources, the teaching, the infrastructure that we're generating now online I think has been overdue," he reflects. "We could have been exploiting mixed modalities sooner."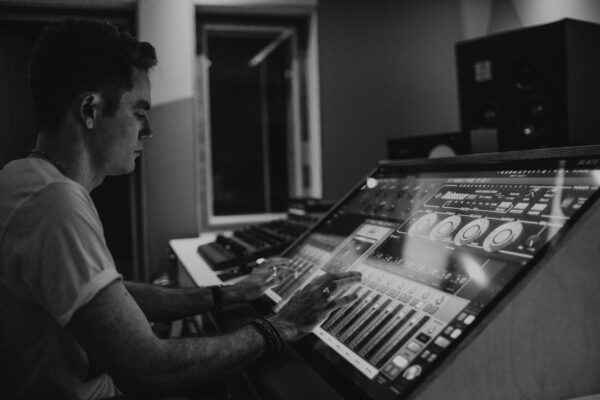 The challenges
There are considerable drawbacks to moving a program that still requires lots of analog equipment and studio time to a purely digital platform. Most schools have had to cancel their studio-oriented courses until students are back on campus and back into recording booths, leaving many students in the lurch. 
"When I look at my majors, there are really three different cohorts there," says Jaczko. The pandemic has had very different effects on each of these groups: students just beginning their studies, students in the middle of their program, and seniors. At Berklee, students just beginning their studies have had no problem moving their foundational classes online. Seniors have also adapted well to online learning by applying their acquired skills at home, with their senior portfolios reviewed digitally. Students in the middle cohort, however, are having a harder time. These students are at a point in their studies "where they absolutely need access to hardware and the recording studios," says Jaczko. "That is the bedrock of the program." 
Rick Schmunk, Music Technology program chair at USC Thornton School of Music, agrees that COVID-19 has had an uneven impact on different groups of students. "For the most part, the COVID virus is affecting other music students much more than music production students," he says. "Music production students are already adept at working in-the-box (as we say) and working collaboratively. The only difference is that they are working remotely with their collaborators." This minor challenge is actually, in some ways, providing a better learning experience as it prepares students to enter an increasingly-remote workforce. 
Additional preparation for students
The entire music production industry has already been headed in a progressively more digitized direction for years, and COVID is set to catalyze that transition. Majoring in production and recording is sure to include more digitally-oriented courses going forward. And even if it's not built into the program, there are plenty of ways for prospective music students to make sure that they are well prepared for the digital world. 
"Fill your electives with computer science classes," recent CU Denver MEIS graduate Michael Stewart advises current and prospective music students. "I can't stress enough how much everything is moving to IP-based technology." IP, or Internet Protocol, is the standard system that all network devices use. It's integral to being able to build, maintain, and understand these networks. "Think of it like wiring a concert over the internet," Stewart adds." The hope is that going forward, these classes won't even need to be electives, as schools plan their post-COVID curriculum with a digitized world in mind.
When asked what the biggest struggle of their COVID-era career is, and what they wish they had learned in school, those working in recording and production respond much like they might in any year, pandemic or not. The hardest things are self-promotion, scheduling, how to file taxes as an LLC, how to network, and how to stay motivated.
"I wish I'd learned DIY marketing strategies, promotion, and advertising for musicians," says Reymundo Lariosa, a Carnegie Mellon School of Music graduate who uses the name Malrey in his artistic work. "You know, thanks to the internet we have a large database of information that we can draw upon," he continues, "but it's also intimidating and time consuming to make sense of all these resources and implement the advice they impart. Maybe having a mentor at school who can guide you through the promotional and business aspects of music would be great at this moment." 
When life gives you lemons…
The increase of digital awareness in university music programs is one of several silver linings to the pandemic. Oftentimes, it's all a matter of perspective. Jaczko has taken COVID as an invitation to learn to think positively about hardship. "Great art is born out of struggle," he says on a Zoom call from his home in the Boston area. "Do you think the blues were invented because everything was totally fun and cool and like everyone had what they wanted? No!"
"Recording engineers have traditionally been the technician collaborating with the musician — you do your job, I'll do mine. Now it has to be more interactive, with both sides learning more about the other in order to make a successful collaboration," says Riccardo Schulz, Sound Recording Professor at Carnegie Mellon School of Music. "Despite the physical separation, the engineer and the musician have to be less isolated in their thinking about how to get the best results possible."
According to Schulz, as a result of the pandemic "recording engineers will now be called on to help musicians who are not tech-minded make sonically-acceptable recordings on their own. The emphasis will still be on how the software works, and to help others get going quickly on various software platforms." 
Sure, "the doldrums of pandemic life" as Weidlein describes it, have heightened a lot of these challenges and anxieties, especially financial and social, but they've also pushed everyone interviewed for this article to experiment with their craft and explore new perspectives. 
"Out of crises," Jaczko reminds us, "artists rise to the occasion."
For More Information:
Click here to discover participating schools that offer programs in Music Technology, Recording and Production.
---
Haley Zaremba is a freelance writer and journalist with an MFA in Food Studies from American University of Rome and a BA in Media Studies from University of San Francisco. Her writing ranges from music and culture to energy and the environment.
Lead Photo Credit: Jason Martin Photography – Audio engineer/producer Aaron Daniels, Aaron Daniels Music
2nd Photo Credit: Taryn Dudley – BioSoul Music producer Daniel Weidlein