Wishing for a jazz career but concerned about how you'll be able to pull it off?
We've talked with a number of faculty and recent graduates of jazz programs at music schools across the U.S. to give you a sense of what you can do with a jazz degree, how to get the most out of your college program, and what to do when you first graduate to start building your jazz career.
What does a degree in jazz prepare you to do?
Recent graduates with jazz degrees agree that their education provided them with a strong background in technique, theory, harmony, rhythm, aural skills, sight-reading, and composition –– as well as flexibility, adaptability, and the skills and background necessary for moving into additional areas of music.
Jazz-trained musicians interviewed for this article have gone on to work in music as:
• Arrangers
• Band leaders
• Composers
• Copyists and engravers
• Film, television, and musical theatre composers
• Music directors
• Performers –– solo; in bands and jazz orchestras; as touring and studio musicians; in pit orchestras; on television and film; in church gigs; at private parties and weddings
• Professors at colleges and universities
• Recording studio engineers and producers
• Teachers in arts schools, private music studios and community music schools
• Transcribers
What are recent jazz grads up to?
You can pretty much count on having a portfolio career especially when you first graduate from music school with a degree in jazz, and maybe for the remainder of your career if you stay in music. This means that you probably won't have a single revenue stream but instead your income will come from more than one and maybe several sources. Here are some examples:
• Vocalist, composer and saxophonist Amber Navran, B.M., Jazz Studies, University of Southern California (USC) Thornton School of Music, writes and performs with her band "Moonchild." She also teaches woodwind lessons, arranges, composes, transcribes, and does chart editing.
• Composer and saxophonist Brett McDonald, M.M., Jazz Studies, Mason Gross School of the Arts at Rutgers; B.M., Jazz Studies, University of North Texas, performs in musical theatre pit orchestras in the U.S. and internationally. When he's not on tour, he's arranging, composing, and has also become an engraver of music (the art of typesetting music typically for publication).
• Trombonist Freddy Gonzalez, M.M. Scoring for Film, TV, & Video Games, Berklee College of Music at Valencia; B.F.A., Trombone Performance, School of Jazz at The New School, has been touring the world with multiple-Grammy-winning singer/songwriter/guitarist Alejandro Sanz. Gonzalez's background includes his Freddy Fuego X-Tet band created to "bridge the gap between the musicianship of jazz and the storytelling of hip hop."
• Multi-instrumentalist Daniel Weidlein, B.M., USC Thornton School of Music, is a Los Angeles-based musician (saxophones, keyboards, flute) who has performed on film and television. He writes, arranges, takes studio gigs as a vocalist and instrumentalist, and produces music for his own and others' bands. He's produced or engineered over 40 albums in the past five years. He also sings bass with several professional a cappella groups and directs large Broadway-style performances for Transcendence Theatre Company.
• Pianist Paul Shinn, D.M.A., University of Colorado Boulder College of Music;  M.M. University of North Texas; B.M., University of Missouri-Kansas City Conservatory, performs throughout the U.S. and abroad as a solo artist and with the Paul Shinn Trio. He also performs with several big bands and a Latin jazz group. With his new doctorate degree, he expects to be teaching on the college level while continuing to be a dedicated performer.
• Saxophonist Mike Casey, B.M., Jackie McLean Institute of Jazz at The Hartt School, is a Connecticut-based saxophonist and composer who performs with the Mike Casey Trio and with pianist Marc Cary and the "Harlem Sessions" project in New York City. In his private studio and at several community music schools, he teaches theory, jazz improvisation, and woodwind lessons. He was one of two dozen young jazz musicians/composers selected worldwide to be part of the Betty Carter Jazz Ahead program at the Kennedy Center in Washington, D.C.
• Jazz saxophonist Greg Johnson, D.M.A., M.M., USC Thornton School of Music; B.M., University of Northern Colorado, can be heard on his own albums and those of at least 50 others. He is currently director of Jazz Studies at the Marin School of the Arts and an adjunct instructor at Dominican University of California. He freelances with a few well-known pop groups, travels around the world as a performer, and composes for a variety of musical formats.
How did they get there?
Rarely does luck lead to the kinds of opportunities jazz majors land while in school and after they graduate. "You can't rest on your laurels just because you're a great player," says saxophonist Javon Jackson, director of the Jackie McLean Institute of Jazz at The Hartt School. "You have to make sure you know what you want if you want to be successful. You need to have a plan, including financial goals."
Mike Casey says he "got to where I am now by putting in the hours in the practice room, spending a lot of time writing my own music, going to jam sessions, and learning as much as I could from my mentors and peers about all aspects of life and music."
Brett McDonald attributes his success to the faculty at the schools he graduated from and "the continued support of my fellow students from that time – who have recommended me (for gigs) and who I have recommended as our careers progress."
Daniel Weidlein took advantage of the fact that his school was well-connected within Los Angeles. He found several internships that provided hands-on training in recording and producing as well as excellent networking opportunities. He parlayed his four years singing with and arranging for USC's Trojan Men a cappella group into professional a cappella work and a stint on NBC's "The Sing Off."
Life Question…
The valid question here is not, "What can one 'do' with a degree in jazz," but "What do you want to do with your life?" Because what you want to do with your life is what will drive what you do after you get a degree.
Some people who get a degree in jazz become famous jazz performers. Some work at Starbucks. Some become graphic designers. Some teach high school band, etc. The degree doesn't mean you get to work in jazz and make a good living the rest of your life.
Life as a performer or composer can be very tough, and full of uncertainty, highs and lows. At the least, getting a degree in Jazz will help you to know if you actually want a life in jazz. If and when you determine that you really do want that life, then the question becomes whether or not you can attain your own measure of success. Your ambition, focus, creativity, discipline, attitude, and grit will determine that.
— Peter Stoltzman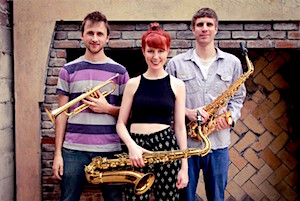 Amber Navran with her band Moonchild
To learn more about goal setting…
See "Jumpstart Your Career in Music" by Keith Hatschek, director of the Music Management program at University of the Pacific Conservatory of Music.
---
Greg Johnson (sax) recording his album "City People" at Daniel Weidlein's B(e)at Cave recording studio.
---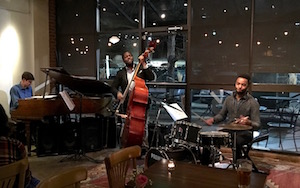 Pianist Paul Shinn performs throughout the U.S. and abroad as a solo artist and with the Paul Shinn Trio.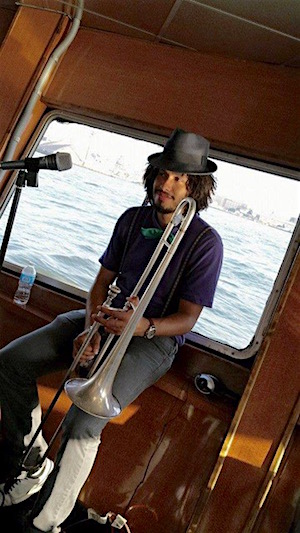 Freddy Gonzalez has been touring the world with Grammy-winner Alejandro Sanz.
Read Also: Career Tips for Jazz Majors
---
Photo Credit: top left/lead photo
Courtesy of Peter Weidlein Photography