Spring graduates of the University of Colorado Boulder chose Mary Poppins to deliver their commencement address. Dame Julie Andrews, as she is now known, imparted far more useful wisdom than "just a spoonful of sugar…"
Often witty and downright funny in a way that reached students directly, Andrews made relevant and humorous references to her roles in some of the many films she's starred in. But the bulk of her address to the graduating class of 2013 focused on the responsibility she urged them to take to "create the kind of world you want to live in."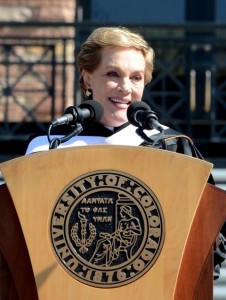 To over 6,000 graduates plus thousands of family members and friends who came to bear witness to the flip of their tassels, Julie Andrews offered:
Wherever your heart takes you, make the arts a meaningful part of your life…The arts are the best common denominator for the proliferation of good in this world.
The arts are vulnerable..they're the first to go. Vigorously support and advocate for the arts for the rest of your lives. Become a consumer of the arts…Attend things you never thought you would.
College graduation is one of many transitions…Being nervous is ok! Would you expect anything else? Recognize it and press onwards!
Everyone is in a position to give something back to the world. Stop looking inward, and start looking outward to where you can make a difference.
Use your knowledge, and your heart, to stand up for those who can't stand, speak for those who can't speak, be a beacon of light for those whose lives have become dark.
When adversity strikes, go out and learn something…Become a lifelong learner.
Along with Mary Poppins, MajoringInMusic.com applauds graduates at every level, as well as their family, friends, teachers, and other mentors who helped them reach this momentous rite of passage.