Are you interested in studying music production? Are you obsessed with how music is effectively presented live and/or recorded?
This article will help you zoom in on your specific interests and career goals. Find out what you need to know before you apply to music production programs, and learn what schools expect from their applicants.
In a follow up article, students and recent graduates working in a variety of production-related settings will share their insights and recommendations to help you figure out your next steps.
Working in music production
According to Michael Gurevich, chair of the Department of Performing Arts Technology at University of Michigan School of Music, Theatre and Dance, a producer can play a variety of roles including:
• Organizing and funding a recording project
• Making beats or background tracks for solo recording artists
• Working with songwriters, arrangers, and engineers
The production process also includes various engineering roles that Gurevich describes as follows:
Recording engineer – Decides which microphones to use, where and how to use them, how to process or treat the sound before and after the recording. Recording engineers also manage the technical aspects of the recording session.
Mix engineer – Decides how all of the parts that were recorded in a session should be combined into a stereo recording. A single album may have several different recording or mixing engineers on different tracks.
Mastering engineer – Fine-tunes the audio on all the mixed recordings to make the individual tracks sound good. Provides a cohesive sound for the entire album.
How to find a music production program
Schools offer music production programs under various names such as:
• Audio Recording
• Sound Recording
• Music Production
• Music Technology
• Acoustical or Sound Engineering
• Electronic Production
• Recording Arts
• Some combination of the above
• Something entirely unique to the school
Don't get caught up with the name of the program! Instead, look for this information on school websites:
• Program focus
• Required classes
• Opportunities for hands-on training, internships, and other real-world experience. There's a limit to what you can learn just sitting in a classroom.
• Additional career-related opportunities
• Faculty – and their experience in your area of interest
• Facilities available to students
• Careers recent graduates have entered based on their education and training
Note that at some schools, you'll find these kinds of programs within a Music Industry department.
Program focus
Music production programs center around the science of sound, but the classes you'll take, the hands-on experience you'll receive, and the type of degree you'll graduate with vary according to the focus of the program.
BM programs emphasize a music performance component. They require an audition.
BA programs are less likely to require an audition or strong performance chops. They may require a portfolio of previous relevant work and/or an interview.
BFA programs are less common, may include digital performance, and may offer options for a focus in areas including composition or film. They may require a portfolio of previous relevant work and/or an interview.
BS programs are more science/engineering-oriented, and may or may not include a music concentration. General requirements may include calculus, physics and computer science. They may require a portfolio of previous relevant work and/or an interview.
Ask admission offices any questions that aren't answered on their schools' websites. If the schools participate on MajoringInMusic.com, you can use the form on their participating pages to ask your questions. We'll make sure you get the answers you need.
Who's a good fit?
Music schools contributing to this article describe their students as:
• Passionate about the arts as well as technology
• Comfortable with math and analytical thinking
• Creative and highly self-motivated
• Entrepreneurial – or ready to become so
• Forward-thinking
Jeff Cline, Associate Professor of Music Industry at University of Memphis, emphasizes the need for students to have "a continuous passion to learn and participate."
"Students who have a penchant for brainstorming and implementing, often with teamwork at the heart of the enterprise, are more likely to succeed," says Dan Godfrey, Chair of the Department of Music at Northeastern University.
Scott Metcalfe, Director of Recording Arts and Sciences at Peabody Conservatory, describes his students as "relieved to not have to decide between pursuing engineering or music in college to the exclusion of the other."
Before you apply
Most of the schools we talked with agree that applicants should be "creative and active musicians who also demonstrate an interest in interdisciplinary collaboration and experimentation," a description provided by Kurt Isaacson, former Admissions Counselor at CalArts.
But expectations vary as far as what you should already know before you apply to a college-level program in any area of music production. Most schools expect you to have a musical background and at least some formal music training.
At a school with a performance-oriented production program, you'll audition and also take lessons on your primary instrument. These types of programs seek "strong performers who want to continue to develop as musicians in addition to studying the craft of music recording," says Justin Kurtz, Chair of the Music Production and Technology program at The Hartt School.
Schools that don't require an audition will likely require a portfolio of past creative work in recorded and/or live sound. Some will also require an interview to discuss your interests and experience.
For the more engineering-oriented programs, a strong math- and computer-savvy background and a high level of comfort in both areas are important.
"Often students will have gained lots or all of their experience outside of their formal education," says Darren Murphy, International Manager at The Liverpool Institute for Performing Arts. "We like this as it shows commitment and enterprise."
10 Tips on how to prepare
Before applying to college-level programs, get some experience in the area of music production you're most interested in focusing on in college.
Some suggestions:
1. Take a music technology class at your high school, at a local community college, or online. This is a great way to see how interested you really are in diving into this field.
2. Look for summer music programs to further your knowledge.
3. Take a music theory class.
4. "Start finding out about how the music you love is made," urges Darren Murphy at LIPA.
5. Talk with people working in the field you're interested in pursuing. Shadow them on the job. Volunteer.
6. If you're interested in recording, "Developing your ears to discriminate between the aesthetics of classical vs. jazz vs. pop/rock recording is very important to becoming a critical listener and student of recording," says Justin Kurtz at The Hartt School.
7. If possible, obtain some home recording equipment, "even an inexpensive system with freeware software to learn on and record friends, associates, and professionals," says Scott Wynne, Associate Professor and Chief Recording Engineer at Appalachian State University. This can help you "know the trials of recording music" and see if this is the right path to pursue.
8. "The most important thing we like to see is evidence of entrepreneurship, and this can be shown by finding positions of leadership within your school, launching a music club or event, actively performing in your community or seeking opportunities for creative collaboration with peers," say Brianne Hayes, Administrative Director, and Alan Watson, Administrative Coordinator at NYU Tisch School of the Arts Clive Davis Institute of Recorded Music.
9. "Above all, be curious and be an independent learner. There is an incredible wealth of resources out there available to students online for self-study in music technology," says Michael Gurevich, at the University of Michigan.
He continues, "There are free or low-cost DAWs (digital audio workstation software) for recording, editing and producing audio files so that all you really need to get started is access to a computer, the internet, and a pair of headphones." A microphone is also helpful.
10. Learn how to communicate about your interests. This will be important for successful interviews at schools that require them in lieu of or in conjunction with a portfolio and/or audition.
What about grad school for music production?
The world of music production is rapidly changing. This means anyone entering it must be ready and willing to stay current with technological advances in order to remain hirable.
Graduate-level training will be useful if your career goals are unreachable without it. It may provide training that was unavailable while you were an undergrad. And it can jumpstart your learning new technologies as well as pursuing your creative interests with the assistance of mentors and collaborators.
Gurevich at Michigan encourages anyone considering a graduate program in music technology, production and/or engineering to "start to develop a research or creative focus that you want to explore in grad school" –– ideally while you're still in college. "At the grad level," he says, "schools are looking for your ability to formulate original research questions that show an awareness of the state of the art of the field, and have the potential to move it forward."
---
The following participating schools on MajoringInMusic.com offer majors and minors in music production-related areas:
Berklee College of Music – Music Production and Engineering; also Electronic Production and Design
CalArts Herb Alpert School of Music – Music Technology: Interaction, Intelligence & Design (MTIID) Programs (sound design and synthesis, web/multimedia design, audio electronics, immersive environment design, recording, software development and interactive audio)
Carnegie Mellon University School of Music – Music and Technology (recording technology, audio engineering, computer music)
DePaul University School of Music – Sound Recording Technology (audio industry: recording, sound for video, music production, multimedia, acoustics)
Florida State University College of Music – Commercial Music (recording, mixing, mastering with a business minor)
The Hartt School – Music Production & Technology (recording, mixing, and mastering engineers)
Indiana University Jacobs School of Music – Audio Engineering & Sound Production (recording, post production, live sound, IT audio, technical support)
Ithaca College – Sound Recording Technology (recording, mixing)
Leeds Conservatoire – BA (Hons) Music Production (production classes also offered in curricula for majors in Jazz, Popular, and Classical)
Liverpool Institute for Performing Arts – Sound Technology (recorded sound, live sound, post-production)
Mary Pappert School of Music – Music Production & Technology
Northeastern University Department of Music – Music Industry (major or minor, recording industry focus); Music Technology (can add Computer Science or Physics); or Recording minor
Oberlin Conservatory of Music – Technology in Music & Related Arts – TIMARA (technology applications for composition, new media and performance)
Penn State School of Music – Minor in Music Technology (musical acoustics, digital audio, sound design, audio recording)
San Francisco Conservatory – Technology and Applied Composition or TAC (composition with scoring and sound design for film, games, and new media; also offered as 1-yr. Professional Studies Diploma )
Temple University Boyer College of Music – Music Studies: Music Technology (music and recording technology)
Tiffin University – Music production & technology
U. of Colorado-Boulder College of Music – Bachelor of Arts-Music with Emphasis in Music Technology & Media Studies
U. of Colorado-Denver Music & Entertainment Industry Studies or MEIS – Recording Arts (audition and non-audition tracks in audio production)
U. of Denver Lamont School of Music – Recording and Production (performance area + engineering, production)
U. of Michigan School of Music, Theatre & Dance – Sound Engineering, Music and Technology, or Performing Arts Technology (audio engineering, sound recording, production, electronic music composition, performance systems, sound synthesis, music psychology, digital fabrication)
U. of South Carolina School of Music – Performance, with a Concentration in Technology or Recording Technology Studies minor (audio recording, computer composition, digital technology, multimedia production)
U. of Southern California Thornton School of Music – Music Technology (music production, live performance, multimedia – creative, technical & business aspects)
U. of Toronto – Music Technology and Digital Media (master's degree, music technology with performance and/or composition)
---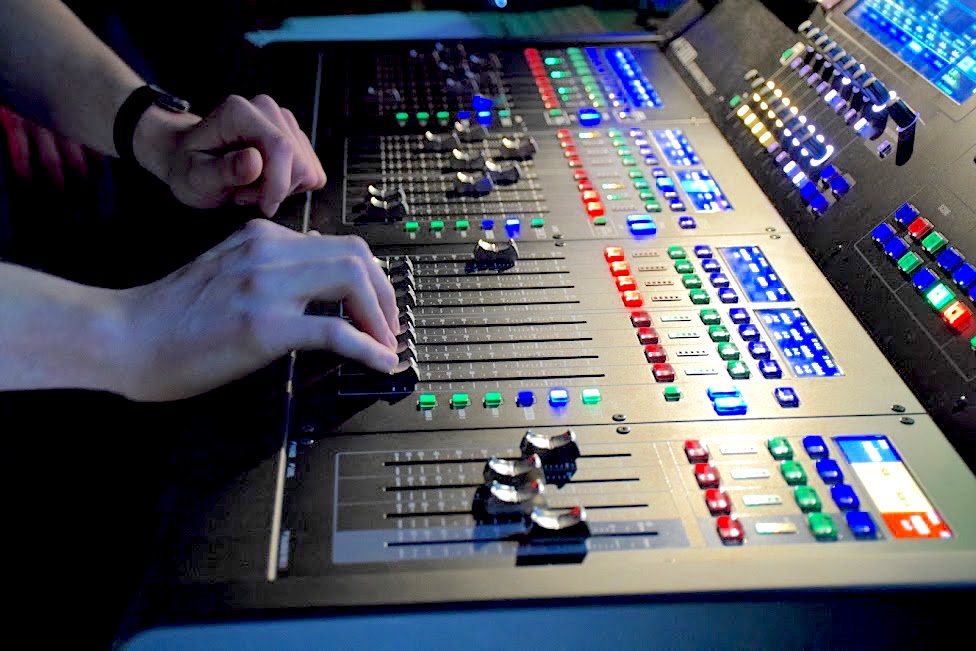 Photo Credits
Top: Appalachian State University
Side: University of Michigan