Oberlin Conservatory of Music educates students for life, by teaching them to perform and think with rigor, creativity, flexibility, and independence.
Awarded the 2009 National Medal of Arts, Oberlin is the oldest continuously operating conservatory and is one of the world's foremost professional training institutions.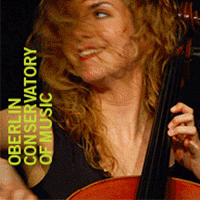 Oberlin is also the only major music school in the United States that focuses on educating undergraduate musicians.  Oberlin students play in ensembles large and small from their first week on campus and are supported in taking risks that prepare them for musical leadership.
At Oberlin, high expectations are the norm. Described by the New York Times as a "rural experimental haven," Oberlin presents opportunities for intensive study and immersive performance experiences. Oberlin students are showcased on the world stage in national and international tours, live-streamed concerts from campus, and through the conservatory's official recording label, in front of top critics and discerning audiences alike.
At Oberlin, we prepare young musicians for remarkable careers. Oberlin alumni have founded numerous ensembles, including Grammy Award-winners eighth blackbird and the International Contemporary Ensemble—Musical America's 2014 Ensemble of the Year—as well as early music ensembles Apollo's Fire and Rebel.  Oberlin alumni are founding members of string quartets such as Pacifica and Miró, and are exemplary solo musicians and collaborators, including composers Christopher Rouse and the Pulitzer Prize-winner George Walker, jazz sax player and acclaimed author James McBride, violinist Jennifer Koh, Atlanta Symphony Orchestra Music Director Robert Spano, and MacArthur Award-winning pianist Jeremy Denk.
Oberlin shares a campus with one of the nation's most renowned liberal arts institutions. It's the key reason why Oberlin invented the double degree nearly 100 years ago and why 40 new conservatory students each year elect to pursue studies in performance and composition alongside science, humanities, and other disciplines. The double degree opens the door to an enormous array of professional possibilities for life after Oberlin.
Creativity & Leadership: Entrepreneurship at Oberlin offers students the chance to put their innovative ideas into action, in practice and preparation for professional life after Oberlin.  This multidisciplinary, cross-campus initiative fosters a culture of smart risk-taking and provides students with funding, coaching, and other resources to launch ventures, artistic and otherwise.
Oberlin Conservatory of Music
Please send me more information about scholarships, applications, and auditions, etc. for music students at Oberlin Conservatory of Music.