The Conservatory of Music at University of the Pacific prepares tomorrow's performers, teachers, therapists, composers, scholars and music industry leaders.
11 undergraduate and graduate degrees
Music minor for undergraduates
A strong foundation in musicianship
Supportive one-to-one instruction
A broad range of performing ensembles

 

On-campus recording studio and recording label
We believe the essential stories in music are ones of innovation and connection. 
Our students craft their future exploring musical traditions and an ever-expanding range of repertoires and styles demonstrating how music is central to the world's many economies, cultures and stories. Our undergraduates gain experiences typically reserved for graduate students elsewhere, whether as an operatic or musical theater lead, a member of a jazz combo, or a partner in our student-run recording label.
Our faculty and staff are deeply committed to helping students grow as individuals, citizens and musicians. From individualized in-person learning to high-tech online experience, we are prepared to provide the best quality music education.
Our graduates are making music with the San Francisco Opera, at New York City's Jazz at Lincoln Center and internationally. They work at the intersection of the arts and technology at Apple, Facebook, Google or Universal Music Group. They help administer programs at the Los Angeles Philharmonic or the Aspen Music Festival and School. They are leading scholars and music therapists throughout the U.S. Several alumni continue to leading graduate schools including Columbia, Duke, University of Maryland and USC. Our Music Education alumni have enjoyed a 100% job placement rate for over 20 years.
PERFORMANCE OPPORTUNITIES
Symphony Orchestra
Concert Band
Symphonic Wind Ensemble
Jazz Ensembles
Pacific Singers
University Chorus
Opera Theatre
Chamber Music Ensembles
Solo Performance
Pep Band
Mariachi Ensemble
New Music Ensemble (student-run)
Heavy Ensemble (student-run)
Pacific Stocktones Acapella Group (student-run)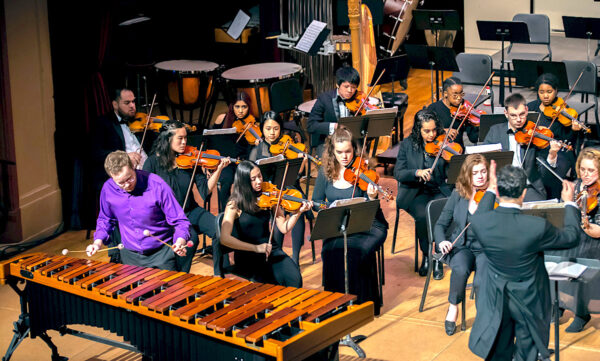 University of the Pacific Conservatory of Music - Please Send Information
Please send me more information about scholarships, applications, and auditions for music students at University of the Pacific Conservatory of Music.