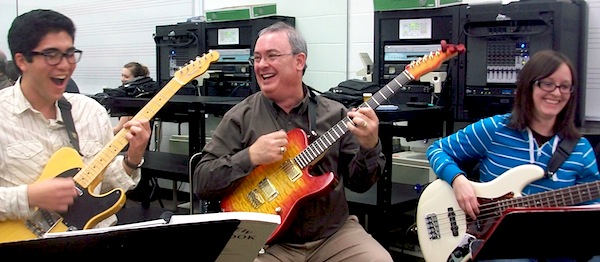 As you prepare to be a college music major, make the most of musical opportunities during high school. Here are some basic pieces of advice to give prospective music majors the best chance for success in college and beyond.
by Tom Hynes
Study Privately
Your private instructor should be qualified to teach a serious young musician. An ideal pre-college teacher has:
A degree in music (at least a Bachelor's)
Experience in preparing college-bound musicians
Experience as an outstanding/professional performer
An instructor who doesn't possess at least one of these qualities is almost certainly not a good choice to prepare you for a college music program!
Play with Other People
Students who attend high schools with strong band, orchestra, choir, musical theater or jazz ensembles enjoy tremendous learning opportunities.  Those who do not –– students at high schools without strong music programs, or home-schooled students –– should actively pursue music options at junior colleges, community music schools, private music schools, or religious-affiliated centers.
Popular music groups such as rock, contemporary worship or pep bands, while valid and fun, seldom challenge young musicians with regards to traditional ensemble skills such as music reading, blending, tuning and balancing, and following a conductor.  Participate and enjoy –– but don't expect these groups to substitute for literature-based ensembles.
Sing
Singing is the most basic form of musical expression. All music majors are required to sing extensively. Take advantage of every chance to vocalize: high school, junior college and faith-based choirs all offer opportunities to work on your voice, and more importantly, your ear.  Particularly beneficial are those choirs that don't rely entirely on "ear learning", but emphasize music reading as well.
Play Piano
Like singing, piano playing is required of all college music majors.  If you started on piano but switched to a different instrument, pull out your old books and brush up.  If you have never played before, start as soon as you can; junior college Beginning Piano classes are a cost-effective alternative to private lessons.
Study Theory
Students who don't start music theory until college often struggle, particularly those musicians whose backgrounds are primarily or exclusively aural (i.e., vocalists, drummers, and guitarists). Any pre-college theory background is helpful.  High school Advanced Placement (AP) Music Theory classes are a tremendous opportunity; so are community college courses.  Numerous self-study methods are available online.
Learn Technology
Familiarity with computer notation programs is beneficial.
The most common are Finale and Sibelius, which are stand-alone notation programs, and Logic, which includes notation as part of a larger platform with MIDI and digital audio. Some companies offer less-expensive starter versions or educational discounts.
PC-based music technology is not limited to notation; MIDI, digital audio recording and editing programs are other powerful tools. Familiarity with technology is extremely valuable to anyone aspiring to a career in music.
Listen to Music
Serious young musicians often do everything to advance themselves except actually listen to music! Even well-trained students often have a poor aural grasp of basic musical styles and concepts, especially those that fall outside their specialty or preference.
The following are typical ways to introduce oneself to a wide range of music:
Recordings (audio files or CDs)
Internet sources (web radio, YouTube, websites, Facebook pages, etc.)
Attending concerts and recitals
Attending live music events not only exposes you to a variety of music, it also gets you in the habit of supporting your fellow musicians—just as you hope they will support you.
---