Do you love vocal jazz? Ever considered what it would take to turn your passion into a career? In this article, we look at what vocal jazz programs offer, what it takes to get accepted, and what you can do with your degree after you graduate. Acclaimed jazz vocalists who also teach college-level programs share information and candid thoughts to help you figure out whether this is the right path to pursue.
What to major in if singing jazz is your passion
You're most apt to find jazz voice training in college music programs listed under Jazz Studies. Your instrument is your voice, so look for programs identified as Jazz Voice, Jazz Vocal Performance, or simply "Vocal Concentration." If you've found a school you're interested in but don't see vocal jazz listed as a major, contact the school directly to see whether they offer what you want to study. Note that many schools offer classes in vocal jazz but not as a major. And at most schools, a vocal performance degree has a classical focus, not jazz.
Schools that offer a major in Vocal Jazz want students to get a well-rounded education. In addition to general education requirements and applied voice lessons and jazz vocal technique, you'll also study vocal jazz history and analysis of styles, composing and arranging, and improvisation. Ensembles are also part of the curriculum. Some schools require classes in classical voice while others do not.
For future career opportunities, you'll serve yourself well by taking any classes, programs or workshops offered that teach music majors how to think of themselves and market themselves in business terms (i.e., entrepreneurship training). Check the career services office if these types of classes aren't clearly offered through the music school or department.
Who is a good candidate for this major?
Vocal jazz programs are all looking for students who are really passionate about jazz, have some kind of background in the language of jazz, and are ready, willing, and excited to learn more than they already know. Basic sight-reading skills are expected. Good tone and intonation are also important going into this major.
"Jazz is so much about community, hearing each other perform and jamming with each other," says Rosana Eckert, senior lecturer who teaches in the Jazz Vocal Performance degree program housed in the Division of Jazz Studies at University of North Texas.
Those who don't see themselves doing this work professionally should not attempt this major, says Elisabeth Lohninger, who teaches Voice and Ear Training at the School of Jazz at The New School. She also emphasizes the importance of a solid work ethic as essential for any vocal jazz major.
What can you do with a degree in vocal jazz?
"The world of the professional musician, especially the jazz musician, is constantly changing," muses Greg Jasperse, assistant professor of Jazz Studies and director of Vocal Jazz at Western Michigan University School of Music. "This isn't necessarily a bad thing but it does require flexibility and the ability to adapt. Luckily, that's what jazz musicians do all the time." He goes on to say, "There is no single job that all jazz vocal graduates do. In fact, in our community of professional jazz vocalists, not one of us has an identical life."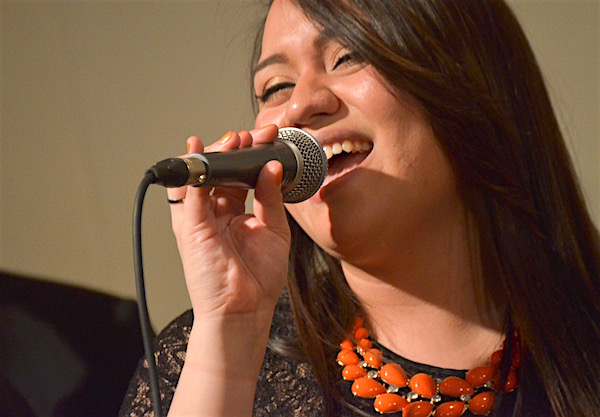 Graduates of vocal jazz programs often work as:
• Solo artists
• Back-up vocalists
• Private studio and college-level teachers
• Studio singers on film & tv soundtracks and commercials
• Composers and arrangers
• Copyists
• Cruise ship performers
• Members and directors of professional jazz ensembles
While some of this work is not vocal jazz per se, the degree should provide the kind of solid musical training that allows graduates to find work in other music genres as well. "One of my last film score sessions in Los Angeles before moving to Michigan was [singing] for the film Oz, the Great and Powerful," says Jasperse, who also directs the award-winning vocal jazz ensemble Gold Company. "It was an incredibly creative score by Danny Elfman. I looked around the choir and saw 3 other alums from Western Michigan University. We weren't singing jazz but we were there for our ability to sight-read, our vocal versatility and our professionalism."
What are schools looking for in an audition?
An audition demonstrating your current vocal jazz skills is required by most programs. Every school has its own audition repertoire requirements, so check them carefully. Following directions about the audition speaks volumes to college admission folks about the kind of student you'll be if they admit you.
Schools want to see what you already know and how familiar you already are with jazz. They'll likely assess your current ability to:
• Sight-read
• Improvise/scat
• Sing with good tone and intonation
Schools do not expect you to be advanced in these areas. Instead, they want to see that you've already begun to learn how to do these and that you show up as someone who is eager about and capable of learning more.
Your background in areas like jazz theory, aural skills (harmonic identification), melodic recall and piano skills is also likely to be assessed.
How to prepare for your audition?
First and foremost, follow this advice from Kate Reid, associate professor and program director of Jazz Vocal Performance at University of Miami Frost School of Music: "Listen, listen, listen – to the tradition – instrumental and vocal. Listen, listen, listen to what is happening today in jazz, contemporary and popular music styles."
Your next step is to determine what music you love to perform will meet the audition requirements of each school you're interested in. The music should demonstrate your current vocal skills and artistry, as well as your understanding of vocal jazz. Your private teacher should be able to help you figure this out. Greg Jasperse suggests: "Study the chord changes so you are prepared to improvise. Practice sight-reading regularly so you are as strong as you can possibly be at the time of your audition. Jazz keyboard skills are incredibly helpful when it comes to learning a song, practicing improvisation, and expanding your knowledge of jazz theory. And all along the way – LISTEN to jazz. Immerse yourself in this language and culture so when you have an opportunity to audition, you are as fluent as possible."
Rosana Eckert at UNT adds, "Students can prepare for auditions by listening, transcribing, and imitating respected jazz vocalists and instrumentalists as a way of getting more jazz language, phrasing, and style in their ears."
La Tanya Hall, who teaches Jazz Voice in the Jazz Studies Department at Oberlin Conservatory and School of Jazz at the New School suggests, "Ideally, to prepare, you should have at least three songs in your repertoire in varying styles that show your range and basic understanding of the genre. I would also suggest some scatting/improvisation on at least one tune."
Note: Some schools require a pre-screen recording to determine whether to invite you to audition. Check each school to see if a pre-screen is required and if so, look carefully at the required repertoire, recording guidelines and deadline for submission (often December 1).
How about summer vocal jazz programs?
Summer jazz camps and programs throughout the U.S. and abroad provide the opportunity to dig deeply into vocal jazz without the burden of school, work, and time-consuming distractions. They also offer wonderful opportunities to network with professionals as well as other students passionate about singing jazz. You're apt to find classes in jazz theory, improvisation, vocal technique, and keyboard skills along with solo and ensemble training and performance opportunities. If you're getting ready for auditions, look for programs that will help you start preparing.
When is a graduate degree important?
Graduate school isn't necessary for everyone who gets a degree in vocal jazz. According to Kate Reid at Frost School of Music, "The timeline for graduate school is different for everyone. Some students need to move directly into graduate work and others want and need to perform and explore their own solo career and experience extensive performing before returning to study again. There is no right or wrong answer there."
But there are benefits. At most college-level programs, a graduate degree is required in order to teach. Graduate school is also appropriate if you want "extra time to hone your craft in a stimulating environment," says Rosana Eckert at UNT. "It can also be a great opportunity to get teaching experience with a mentor to guide you."
Final thought
"Vocal jazz is not an easy path by any means," acknowledges Greg Jasperse. "And it's not a mainstream art form. Jazz really has to feel like it's in your DNA in order to pursue it professionally. If you're interested in becoming a jazz vocalist, do some research about the professional lives of the jazz vocalists you admire and appreciate. You'll find that most of these people eat, sleep and breathe jazz."
University of Miami Frost School of Music top jazz vocal ensemble, Frost Extensions, performs at the Monterey Next Generation Jazz Festival.
About the contributors
Rosana Eckert, senior lecturer in Jazz Vocal Performance at University of North Texas, is a live and studio vocalist, songwriter, and voice-over talent who has sung or spoken on hundreds of commercials, album projects, publishing demos, and radio IDs around the world. She has recorded four solo CDs and performs regularly throughout the U.S. and abroad. Eckert also serves on the faculty of the New York Voices Summer Vocal Jazz Camp and University of North Texas Vocal Jazz Camp.
La Tanya Hall, teacher of Jazz Voice at Oberlin Conservatory and School of Jazz at the New School has collaborated and appeared with performers across many genres (including Harry Belafonte, Aretha Franklin, Quincy Jones, and Steely Dan) and has toured and recorded with Bobby McFerrin since 2002. She teaches master classes with the YoungArts Foundation and is also a session singer and actress. Hall has sung at international festivals and with several U.S. orchestras, and has an album out on Bridge Records.
Greg Jasperse, assistant professor of Jazz Studies and director of Vocal Jazz at Western Michigan University School of Music, is a composer, arranger, clinician, adjudicator and guest conductor. He has sung on many film soundtracks as well as Red Hot Chili Pepper's song Monarchy of Roses and Muse's album The 2nd Law. He sang at the 85th Annual Oscars with Adele on her song Skyfall and arranged, produced and music-directed A Gallagher Family Christmas for William H. Macy and the cast of Showtime's "Shameless." Jasperse sings with Sixth Wave and Vertical Voices and spends summers teaching at New York Voices Vocal Jazz Camp, the University of North Texas Vocal Jazz Camp, and Showchoir Camps of America.
Elisabeth Lohninger, teacher of Voice and Ear Training at the School of Jazz at The New School since 2002, has 11 albums to her name and and regularly tours Europe, Asia and the Middle East. In fact, she was touring in Germany while contributing to this article. She maintains a private voice studio in New York City, performs in four languages, and has had song placements on television.
Kate Reid, associate professor and program director of Jazz Vocal Performance at University of Miami Frost School of Music, maintains a solo performing career in Miami and Los Angeles. She has several albums out and as a session singer, has lent her voice to film, television and artists' albums including Planes, Star Trek Into Darkness, Epic and Men in Black III and albums for Josh Groban, X-Japan and Muse. Reid is a master class presenter and a clinician and adjudicator at jazz and choral festivals throughout the U.S. She also teaches at the summer Young Musician's Camp at the University of Miami Frost School of Music.
---
Photo Credits
Top Photo: Western Michigan University/Photo by Mark Bugnaski Photography – vocal jazz student Christian Diaz performs with Delfeayo Marsalis
Inset Photo: Western Michigan University – Aimee Lopez, vocal jazz ensemble Gold Company